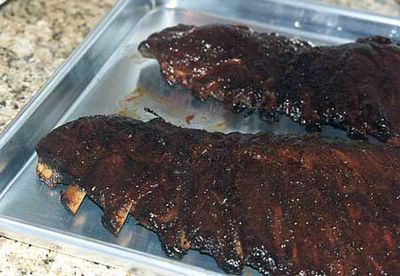 Bar-B-Que that is..........what did you think I was suggesting?
It was with a little sadness that Mrs. P and I woke on Saturday for our last childless "date Saturday". The previous two weekends had seen us on weekend 1 driving to Sheboygan Wisconsin for the best wood burning oven pizza in the Midwest, and on the second weekend heading to Monroe Wisconsin and points nearby for micro-brewery tastings, and Mustard Museum viewings.
The pizza in Sheboygan was fantastic, and how we found this place is most likely a story with which you can relate. Last year, some friends of ours invited us to join them at the Kohler Food & Wine festival. They suggested that while we were in Kohler, we could pop over to Sheboygan for "the best Italian meal you've had in a long time". At the time I assumed our pals, fellow gastronauts both, were suffering from hyperbole born of their desire for Mrs. P and my company.
The truth was that they were correct. The joint is known as Stefano's Trattoria and is located on 8th street in Sheboygan, Wisconsin. We went in expecting something.......how do I say this, Wisconsony? Yet, we experienced a delightful meal. I had Osso Buco, a dish that is done to mediocre levels in restaurants around the world. At Stefano's the veal has been tortured to succulent perfection, cooked in a beautiful sauce, and served with the special zest of gremolata that makes your taste buds sing with joy. Washed down with a nice Italian selection I made a silent note to myself to never doubt this couple's recommendation again. The next day, we went to Stafano's pizza joint across the street for lunch, and we vowed that someday we would return.
That someday was two weeks ago, and we were not disappointed. Mrs. P had a ham and artichoke calzone, while I enjoyed a "regular" pizza with prociutto, arugula and artichokes. Cooked in the wood burning oven, both were finished to crispy excellence, and made the two hour drive well worth it.
So this week it was bar-be-que. We awoke Saturday with a hankerin to drive and consume hickory smoked meats. A quick search of the internet revealed that a mere three hours away, in Peoria Illinois, several several shacks of questionable repute, served forth the magic that is bar-be-que. I've attached the list we used, in case you ever find yourself in Peoria with a serious sauce deficit in your system.
We set our sights on Big John's. A bar-be-que chat board, suggested that Big John had had some difficulty with the Gov'ment a few years back. Apparently the man had some issues around the whole payment of taxes thing. As any good bar-be-que fan knows, a healthy suspicion of "the man" combined with a dodgy history of operation can make for some pretty fine "que". So, it was with mouth watering delight that we set out on our quest.
On our way down, we drove through the small burg of Eureka, Illinois, where my personal hero, Ronald Wilson Reagan attended college. In town they have a Reagan museum, and although I was very excited to stop in, the rumble in my belly dictated that we head directly to Big John's were we assumed our hunger would be sated.
The rest of the journey was a glucose deficient blurr. Suffering from hunger that caused us to drift in and out of lucidity, we got lost, found our bearings, and got lost yet again. A map of Peoria would have helped but the truth was we weren't thinking straight. We needed a fix, and we were desperate.
We were also troubled by the phone company's recorded message that the line to Big John's was "being checked for trouble". In retrospect, an ominous warning. Eventually, we found University avenue and began counting up the addresses to 7805........
At that moment the true horror of our situation struck home with all the force of a stun gun in a slaughterhouse. Big John's was no more. In it's place, was an establishment named Elliots.
Elliots!
The name still brings a chill to my bones. It was the cruelest of jokes. A nerdy geek had taken over the once proud, manly establishment known as Big John's. Even worse, Elliot's wasn't open. No doubt, he was driving mommy to the mall for support hose.
Elliots. We spat the name from our sauceless lips with disgust. Mrs. P consulted the address again and looked at the number on the door. It matched. I then pointed to the true confirmation. Big John's derelict smokestack. It rose proud in the sky, yet none of that blued hickory flavored goodness came forth. Big John's was gone, gone and a milktoast pretender named Elliot had taken over the smokestack of another man. A much better man, who no doubt would have been open for lunch. Elliot. I curse the name.
Desperation set in. We had been three hours en route. We not only need food, we needed bar-be-que, and we needed it now. Mrs. P, the co-pilot of my life, leapt into glorious action. Really, they ought to give medals for performance under pressure such as this. She began dialing for salvation. Queen Bee Ribs........no answer. MP's smokehouse..........silence. Famous Dave's........heresy! Big O's Bar-b-que Station..........."hello, Big O's".
Yes! Quickly, Mrs. P got directions and we were off. After a series of miscues due to fatigue, hunger, and the much-to-late realization that Peoria does have one-way streets (note, they take driving the wrong way rather seriously down there....go figure), we pulled up to a small shack, with an aging sign. Big O's! Immediately I knew lady fortune had dealt us a winning hand.
As we entered the shack we were greeted with a broad counter where we would place our order. The foreroom of the restaurant was a collection of simple tables. Two thoughts crossed my mind. First, "this is exactly how a bar-be-que shack should look". White walls, red tables, pictures of Jesus. A pencil drawing of an African American man was framed on one wall. It had a vague sort of saintly appearance to it. No doubt this was the man himself. Secondly, the place was clean. Real clean.
We ordered a simple lunch. One rib dinner, one pulled pork sandwich. As we took our seats, another hungry patron, Homer from St. Louis, engaged us in conversation. Homer was in town for a church outing, and had gotten a little hungry. New to town, he had driven past "several McDonald's, and KFC's" because he just knew he could find a place to get some catfish.
Homer is my kind of man.
Presently, our food arrived and we dug in. The ribs were delightful. The meat separated from the bone quite well, yet still had excellent texture that provided a toothsome satisfaction. The smoke flavor was light, perhaps a little light for my taste, but when combined with the tangy tomato sauce it yielded a true bar-be-que flavor. The sauce itself, had no heat yet was not overly vinegary, or worse overly ketchuppy.
The pulled pork was very good. Succulent, excellent smoke and quite moist we ate our food mostly in silence, interrupting our bliss only to respond to Homer's thoughts on other fine bar-be-que establishments in Illinois, Missouri, and Memphis. Soon it became clear that we needed to try the beef.........and another rib dinner.
The beef was my least favorite. It was overdone, and instead of a smoky flavor had a sort of off putting burned flavor to it. This, of course, served as confirmation of one of my bar-be-que theories. Top level pit masters gain their reputation not only through their cooking skills but also because they match their wood to the meat. Big O's, in my view, made the mistake of smoking beef with Hickory, a combination that doesn't work. Much better to use an apple or cherry wood.
In the end, this was just a quibble as we consumed all of the beef and the second rib dinner as well. It was then that we did something that floored our dear, new friend Homer. We bought a pound of pork to go! Yup, its there in my fridge as I write, just waiting to delight us again.
That, my friends, is the lesson that bar-be-que teaches us. It is a cooking style that lives on the edge. Oh it is true, the infidels that try to make life safe and predictable have tried to tame bar-be-que with their gas grills, and "fat grilling machines". Yet all these people have done is diminish their lives and the lives of their followers. Bar-be-que, like life, can't be controlled, we can only hope to contain it's magic briefly. While it is contained though, what a joy it yields! Controlling the essential element fire, with air and smoke, to produce a necessity of life is inspirational.
Our lives need to contain some of the same element of unpredictability. This is how we found Big O, and the reward was fine. Very fine indeed.