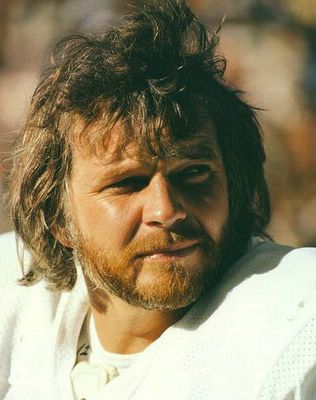 The Snake!
That's right my friends it that time of year once again. The air chills, the leaves begin to fall and the bone crunching goodness that is our national sport once again rules the air waves. Why, you ask, do I post a picture of southpawed has been to celebrate the return of all that is right and good with America? Two reasons.
First, Kenny Stabler represents the glory years of not only the Raiders but of the NFL as well. A throw back even when he was active, Stabler had the ability to stumble from the champagne bottle littered hottub, weave his way through the maze of passed out bimbos, and find himself upright on the field carving up the opponent's defense with near savant like ability. Kenny was not only a man, he was the man, and to 17 year old highschool fans it didn't get any better than Kenny Stabler firing a pass to
Fred Biletnikoff
for another first down, or
Cliff Branch
for the TD bomb. The Raider's slogan was "Just Win Baby" and that is what they did on any given Sunday. Today's league is a hollow shell of what the NFL once was, restrained from its former greatness by selfish stars, and PC enforced parity. Yet we still love it, and once again its time to throw open the windows, put on the extra sweater, light the cigar and get ready for some football.
Secondly, my second fave team is playing the Superbowl Champs tonight in the league kickoff game. Just one of my many talents is a near clairvoyant ability to pick games against the spread and every Friday this fall will be NFL Friday at the Pursuit. So my remaining picks will be published tomorrow. For tonight, go with the Raiders and give the 7.5.
Just win baby!