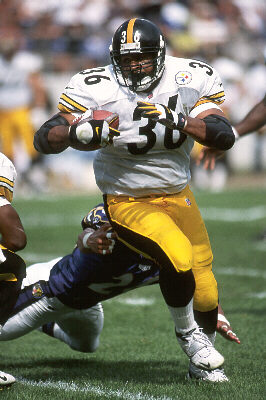 It's that time of the week again, when a young man's thoughts turn to the lengthening shadows, the crisp fall air, and the bone crunching action of steriodal men playing football on a natural turf field! The picture above is one of "The Bus" presented for the enjoyment of one Mr. Trumpet a died in wool Steelers fan and fellow Yankee supporter.
Here we are, already in week four and I'm reeling a bit from last week's decent into incompetence, not only from the Chicago NFL Franchise, but also from my less than distinguished picks. After ending the first three weeks at an impressive 10-6 against the spread, last week's disastrous 5-11 puts me under water for the season at 15-17.
The beautiful thing about America though is that salvation is always at hand. Turn over a new leaf, start a new life and forget about the past is the mantra of thieves, whores and unsuccessful football prognosticaters! So with a fresh outlook on life, a complete recoding of my super computing NFL model, and a couple well said prayers I venture back into the fray and present Pursuit's picks for Week 4, which by the way is also known as "The Week Even The Bears Can Do No Harm":
Pats 5.5 Chargers; Take the points and get out of town.
Jags 4 Broncs: Broncs after a Monday night extravaganza will fall to the Jags by more than 4
Bengals 9.5 Texans: Bengals looked good last week, but then they played the Bears. Texans.
Colts 7 Titans: Peyton will put the Titans to shame.
Chiefs 2 Eagles: Chiefs
Bucs 6.5 Lions: NFC North grudge match, take the points even if the Lions suck
Giants 3 Rams: Rams are sooooooo 2002, take the Gnts
Bills Pick 'em Saints: Go with the Saints
Redskins 2 Seahawks: Joe Gibs takes the fall this week, Seahawks
Ravens 7 Jets: Ravens by 7? No way, I don't care if I'm playin QB for the Jets. Take the Jets.
Falcons 6 Vikes: Vikes. I have no good reason for this pick, but I'm tellin ya its good.
Raiders 3 Cowboys: Raiders shouldn't be favored until, you know, they actually win a game. Cowboys.
Cards 2.5 49ers; Cards, they're due.
Panthers 7.5 Packers: This spread insults Farve. He'll do something about it. Take the Pack.