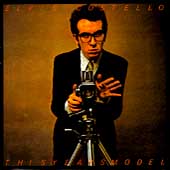 The first time I ever saw Elvis Costello was in December of 1977. I had just come home from a party and tuned into a new show that seemed to have some promise, Saturday Night Live. It was late in the show, and the musical guest was ready to perform his next number.
Tom McMahon
has a description at his site of what happened next, along with a great picture of the moment
Elvis is wearing a grey jacket with a dark tie and a striped shirt, plus narrow-leg blue jeans. As Elvis reaches the line about "there's a vacancy waiting in the English voodoo" he stops short, not quite getting the word 'voodoo' out as he starts to turn, yelling frantically "Stop! Stop!" to the Attractions. The second "stop" is almost inaudible as he has his back to the microphone by this point. Having gotten the band's attention Elvis turns back to the audience and rather earnestly announces "I'm sorry, Ladies and Gentlemen, there's no reason to do this song here". He then turns back towards the band and says "OK, Radio Radio... 1, 2, 3, 4" and the band crash, slightly awkwardly, into the opening chords of "Radio Radio"
As Tom says, it was one of the most memorable moments of my youth. Here was this geeky guy, who not only rocked but was also clearly violating some rule, and what 16 year old couldn't support that? Turns out that SNL had ordered Costello not to play Radio, Radio because they were still a young show and didn't want to upset the buzz they were getting on FM stations across the country.
Flash forward 28 years.
Last night, I was in my kitchen baking some bread following the directions of another one of my heros, Julia Child. I had WXRT on and it was time for the Sunday Night Concert on 'XRT. Last night's show? Elvis live at the Rivieria in Chicago in February 1977. I couldn't have been more excited. The show was an hour long, and that night Elvis played the Riv for $3 bucks a head, showcasing songs from the 1977 release, My Aim Is True, and his 1978 release, This Year's Model. A partial playlist:
Less Than Zero
The Beat
Red Shoes
Radio, Radio
So there I was, an adult now, baking bread and rocking like a maniac to one of the heros of my youth. Funny how time changes. The host, mentioned that Elvis is now married to Diana Krall and they are working on a joint project having something to do with the life of Hans Christen Andersen. Hey, its Elvis still bizarre and still very cool.: